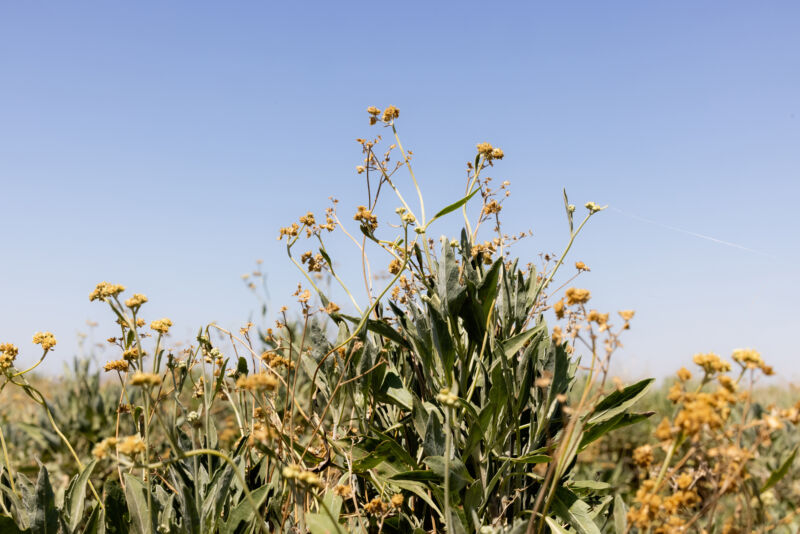 In 2022, tire company Bridgestone used the IndyCar racing series to debut a new sustainable natural rubber that it has been testing as a replacement for less environmentally friendly rubber. The new tires used rubber from a desert shrub called guayule (Parthenium argentatum). Now, Bridgestone is ready to try the rubber in a more practical application and has produced a demonstration run of road-going tires using guayule rubber and a high percentage of recycled materials. The company will conduct tests with automakers to prove the concept.
The world produces about 2 billion tires each year, and while synthetic rubbers are used in modest amounts, most road tires use a lot of natural rubber from the para rubber tree (Hevea brasiliensis). But 90 percent of para rubber is grown in Southeast Asia and has to be shipped around the world to reach tire factories.
Bridgestone has been looking at guayule as an alternative for a little over a decade now. The guayule plant is a short, woody shrub that grows easily in the deserts of the American Southwest and requires much less water than crops like alfalfa or cotton that are also grown there. In Arizona, Bridgestone has been breeding guayule and conducting research and development on its use in tire-making.
More than just natural rubber
In fact, these new tires incorporate more than just guayule rubber. Bridgestone says that 38 percent of the tire's content is biological in origin—there's some para and guayule rubber, but also plant-based oils and resins, biologically derived silica from rice husk ash, and biologically derived carbon black.
Another 37 percent of the tire's content is from recycled materials. These include recycled steel (for the tire's belt), recycled rubber chemicals, carbon black from both recycled sources and end-of-life tire pyrolysis oil, and synthetic rubber made from sustainable materials like recycled plastic bottles.
"As we progress in our transformation to a sustainable solutions company, we are making incredible progress in the use of recycled and renewable materials to bring sustainable tire technology from the drawing board to the driveway," said Paolo Ferrari, president and CEO of Bridgestone Americas. "The production and deployment of a 75-percent recycled and renewable materials tire technology marks a significant milestone as we accelerate our progress toward using fully sustainable materials in our products by 2050."
Bridgestone produced a run of 200 demonstration tires at its Aiken County Passenger/Light Truck Radial Tire Plant in Graniteville, South Carolina, which is the first US tire factory to earn an International Sustainability and Carbon Certification for its transparency and traceability of sustainable raw materials. The plant also uses an eight-acre solar array to help power its operations—tire manufacturing is a very energy-intensive process.
Now the tire company will conduct joint evaluations with automakers to test these tires' suitability for future EVs, and it hopes the good durability of guayule rubber will be well-suited to that application.