In this article, we will show you how to fix VPN connection error 628 in Windows 11/10. Some users have complained that they receive this error when connecting to their VPN client directly or launching the VPN client from a batch file or PowerShell script. In another situation, this problem occurs when an admin tries to connect VPN to the standard user accounts. While the admin account is able to connect to VPN, the own account of users gives the connection error. This VPN connection error message may look like this:
Error 628: The connection was terminated by the remote computer before it could be completed.
Fix VPN Connection Error 628 in Windows 11/10
To fix VPN connection error 628 on a Windows 11/10 PC, the solutions covered below are helpful. Before trying these fixes, you should update router firmware or modem drivers and see if it helps. Also, re-check the login credentials you are entering for your VPN connection. If the problem continues, use these solutions:
Temporarily disable the antivirus program or firewall
Allow the required Protocols
Re-install WAN Miniport drivers
Reset TCP/IP or Internet Protocol.
Let's see these solutions in detail.
1] Temporarily disable the antivirus program or firewall
This is a basic fix but can be very helpful. It is possible that the antivirus program or firewall you're using might be considering the VPN connection a threat and therefore blocking the connection from establishing.
If this is the case, then temporarily disable your antivirus program and/or firewall and check if you are able to connect to VPN. If yes, then you should add your VPN client or service to the allowed list or add it to the exception list to allow VPN through Firewall and antivirus program in your Windows 11/10 system.
2] Allow the required Protocols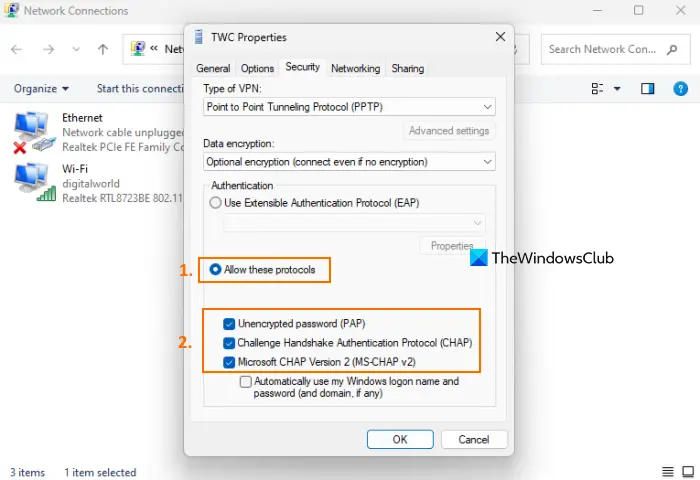 This is the most helpful solution to fix VPN connection error 628. In order to establish a VPN connection, it is necessary to allow the required protocols which may include CHAP, PAP, and MS-CHAP v2. Otherwise, this may fail in establishing the VPN connection. Here are the steps:
Open the Control Panel on your Windows 11/10 PC
Select the Network and Internet category
Now select the Network and Sharing Center option
Click on the Change adapter settings option available on the left section
A Network Connections window will open where you will see all the available connections be it Wi-Fi, disconnected VPN connection, Ethernet, etc.
Right-click on your VPN connection and select the Properties option
In the Properties box, switch to the Security tab
Set the Type of VPN using the drop-down menu. For example, if the connection is PPTP, select Point to Point Tunneling Protocol (PPTP)
Select Allow these protocols option. After this, select the following protocols:

Unencrypted password (PAP)
Challenge Handshake Authentication Protocol (CHAP)
Microsoft CHAP Version 2 (MS-CHAP v2)

Press the OK button.
If selecting all these protocols doesn't work, then select only CHAP protocol, MS-CHAP v2, or PAP protocol, and save the changes. Now try to connect VPN and it should solve the problem.
Related: Fix VPN Error 691, The remote connection was not made or denied
3] Re-install WAN Miniport drivers
This solution is helpful if VPN has made changes to WAN Miniports and because of this VPN connection is resulting in error 628. If this is the case, then you need to re-install the WAN Miniport drivers using the Device Manager. The steps are:
Open the Device Manager window
Use the View menu and select Show hidden devices option
Now expand the Network adapters section
Right-click on WAN Miniport (IKEv2) device driver
Click on the Uninstall device option and a small confirmation box will open
Press the Uninstall button
Repeat these steps to uninstall WAN Miniport (IP) and WAN Miniport (IPv6) device drivers
Open the Action menu and select Scan for hardware changes option.
This will re-install those WAN Miniport drivers.
4] Reset TCP/IP or Internet Protocol
This fix also helped some users and might also work in your case. Your VPN connection may fail if TCP/IP or Internet Protocol is corrupted because of which you are facing internet connectivity issues and packets are not transferring over the network. So, reset TCP/IP or Internet Protocol on your Windows 11/10 system, restart it, and see if this works.
What is error 868 VPN Windows 11?
VPN error 868 occurs when you try to establish a connection to your VPN client but the connection is not established with the server. It may occur when your security software blocks the connection or the port is blocked by your network provider. To solve this error, clear or flush the DNS cache, temporarily disable your security software, or change the network and then connect to VPN.
Why is Windows 11 unable to connect to VPN?
You may face trouble connecting to VPN in Windows 11/10 for different reasons. It may happen if the correct VPN protocol is not set, network drivers are outdated, there is some problem with WAN Miniport drivers, the IPv6 protocol is causing an issue, etc. So, if VPN is not working on your Windows PC, then re-install network drivers, disable the IPv6 protocol, re-install WAN Miniport drivers, change the VPN protocol, etc. The problem may also be with the VPN tool itself. So, in that case, re-installing the VPN tool you're using can fix the issue.
Read next: Fix VPN Error 609, A device type was specified that does not exist on Windows PC.