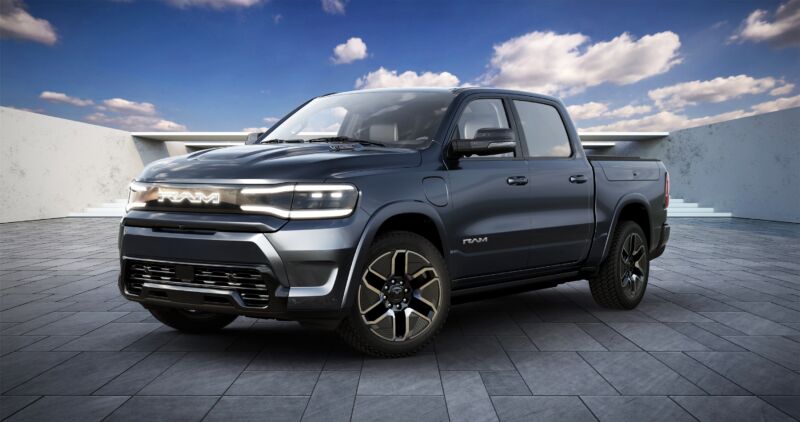 Ram was the last of the big three automakers to show off an electric pickup truck, finally doing so during this year's Consumer Electronics Show in Las Vegas. The Ram 1500 Revolution concept was boldly styled, with dramatically raked A-pillars, that same angle repeated between cab and bed, and wheel arches so swollen you might think they were having an anaphylactic reaction.
Today, Ram showed off the production 1500 REV electric pickup at the New York International Auto Show, and while the styling is a lot more conventional than January's concept, a look at the specs left me audibly uttering "WTF."
If you can't be first, you might as well go farthest
So far, Ford and Rivian have the electric pickup market to themselves. GMC had to stop building the gargantuan Hummer EV for a while, and Tesla's Cybertruck is still poised to enter production without any sign that has actually happened. Meanwhile, Chevrolet's Silverado EV should be about to start appearing on roads and job sites, as spring 2023 is when deliveries of the work truck version are scheduled to begin.
Perhaps the product people and engineers at Ram realized that they'd need to do something big to stand out in a rapidly crowding electric truck field. And go big they did because you'll be able to spec a Ram 1500 Revolution with a truly monstrous battery that endows it with a range of 500 miles (805 km).
Just how monstrous? 229 kWh, which makes it even bigger than the battery in the humongous Hummer EV.
Stuff you want to carry goes in this end. Note the fact that the doors are normal and not suicide doors now.


Ram

It's not a cybertruck but this truck looks like it wants to cyber.


Ram

Can we please stop this trend of giving passengers their own infotainment screen when the other one is right next to them? It's not like they have to pay attention to the road.


Ram
That's an option, though; as standard, the electric Ram 1500 will use a 168 kWh pack, sufficient for a range of up to 350 miles (563 km). Both battery packs run at 800 V, and Ram says this will add 110 miles of range for every 10 minutes they're being fast-charged at a 350 kW charger.
Like other electric pickups, there are AC power outlets—up to 7.2 kW from the truck bed and 3.6 kW from outlets in the frunk—and Ram says it will have a maximum payload capacity of 2,700 lbs (1,225 kg) and be able to tow up to 14,000 lbs (6,350 kg).
The Ram 1500 Revolution is not due until model year 2025. Closer to that time, we should find out how much one might cost.