iOS is at the heart of the iPhone experience. It's the operating system on which everything else sits, while also delivering plenty of features and dedicated apps built by Apple itself. If you've ever wondered about when versions came out, how you can check the one you're currently using, or how to update to the latest iteration, we have the answers. Here's our whistlestop tour of iOS.
If you have similar questions about macOS, you can read our comprehensive guide to Mac OS X and macOS.
History of iOS
iOS made its debut in June 2007 alongside the first iPhone. Although, when Steve Jobs held the little device aloft revealing it to the world for the first time, it wasn't running iOS 1. Instead, it was reported by Apple to be powered by OS X, the software for the Mac. Over time it was called iPhone OS, until finally gaining its now legendary name in the fourth generation of the software when it was shortened to iOS.
Significant milestones are scattered across the iOS timeline, with the first being the introduction of the App Store in iPhone OS 2 (iOS 2). iOS 4 saw the iPad joining the scene and using the operating system alongside the iPhone.
iOS 5 was introduced along with the iPhone 4S, which saw the debut of Siri as a built-in part of the operating system. Sadly, this was the last version of the software to be released when Apple CEO and Founder Steve Jobs was still alive.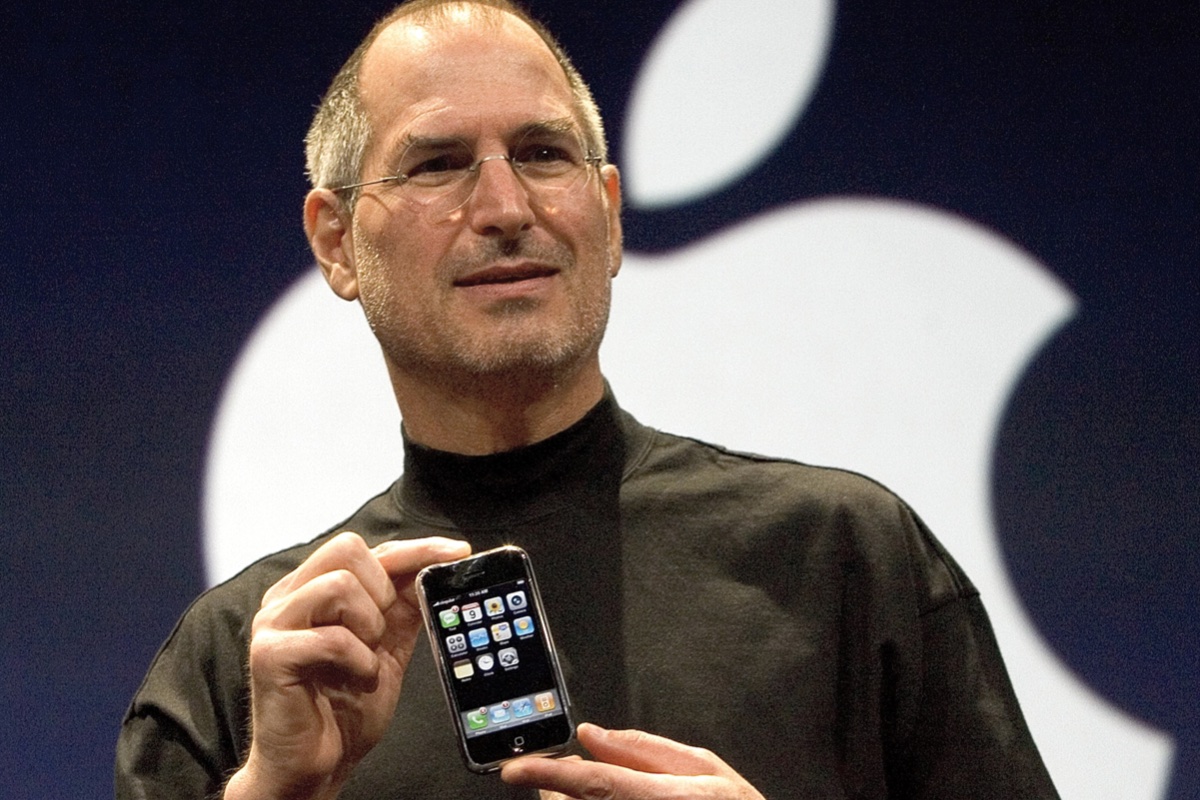 Apple
Things changed significantly in iOS 11 as it brought the first touch and gesture interface, allowing the iPhone X to appear without the Home button that had come with every iPhone up until that point.
Another major shift was with iOS 13, as it marked the bifurcation of Apple's mobile operating systems, with iPhones staying on iOS but the newly announced iPadOS powering the new iPads. This would continue through to the present day, although the version numbers have stayed in sync, with the latest ones being iOS 16 and iPadOS 16.
iOS 17 and iPadOS 17 are the next expected versions of the software, and we look forward to getting a preview of what Apple has to offer when WWDC 2023 comes around in June.
List of iOS versions and current versions
Here's a breakdown of all the versions of iOS that have been released, along with the last updates they received.
iOS 1 (called iPhone OS 1) – Released June 29, 2007 (Latest 1.1.5 July 15, 2008)
iOS 2 (called iPhone OS 2) – Released July 11, 2008 (Latest 2.2.1 January 27, 2009)
iOS 3 (called iPhone OS 3) – Released June 17, 2009 (Latest 3.2.2 August 11, 2010)
iOS 4 – Released June 22, 2010 (Latest 4.3.5 July 25, 2011)
iOS 5 – Released October 12, 2011 (Latest 5.1.1 May 7, 2012)
iOS 6 – Released September 19, 2012 (Latest 6.1.6 February 21, 2014)
iOS 7 – Released September 18, 2013 (Latest 7.1.2 June 30, 2014)
iOS 8 – Released September 17, 2014 (Latest 8.4.1 August 13, 2015)
iOS 9 – Released September 16, 2015 (Latest 9.3.6 July 22, 2019)
iOS 10 – Released September 13, 2016 (Latest 10.3.4 July 22, 2019)
iOS 11 – Released September 19, 2017 (Latest 11.4.1 July 9, 2018)
iOS 12 – Released September 17, 2018 (Latest 12.5.7 January 23, 2023)
iOS 13 – Released September 19, 2019 (Latest 13.7 September 1, 2020)
iOS 14 – Released September 17, 2020 (Latest 14.8 September 13, 2021)
iOS 15 – Released September 24, 2021 (Latest 15.7.4 March 27, 2023)
iOS 16 – Released September 12, 2022 (Latest 16.4 March 27 2023)
List of iPadOS versions
While iOS was the initial operating system for iPad, this changed with the release of iPadOS 13 in 2019. Since then, iPads have had their own platform, enabling Apple to better harness the power of its larger devices. Here's the short release history of iPadOS:
iPadOS 13 – Released September 24, 2019 (Latest 13.7 September 1, 2020)
iPadOS 14 – Released September 16, 2020 (Latest 14.8.1 October 26, 2021 )
iPadOS 15 – Released September 20, 2021 (Latest 15.7.3 January 23, 2023)
iPadOS 16 – Released October 24, 2022 (Latest 16.3.1 February 13, 2023)
Which iOS versions are currently supported?
In terms of new features, only iOS 16 is currently supported by Apple. For those with older versions though, Apple does support the three most recent versions of its operating systems with security updates. In fact when necessary Apple will go further back–for example, in January 2023 there was a security update for iOS 12. iOS 14 can run on the same iPhones as iOS 13 so security updates are perhaps less necessary.
This means you will still receive security updates to keep your systems safe from bugs or vulnerabilities even if your iPhone can't run the latest version of iOS. Apple has done a great job of making the newer iOS versions compatible with iPhones from older generations, hence the ability to offer upgrade paths rather than having to continue supporting multiple versions.
iOS 12 is therefore the current safe harbour for more senior iPhones, with the operating system prolonging the lives of devices as far back as the iPhone 5S which was released in September 2013. However, we expect that Apple will not support iOS 12 for much longer. See: How long does Apple support iPhones?
How to tell which version of iOS your iPhone is running
If you're not sure which version of iOS you're currently using, it's very easy to find out. Just go to Settings > General > About and look for the iOS Version number. It's the same steps for iPadOS.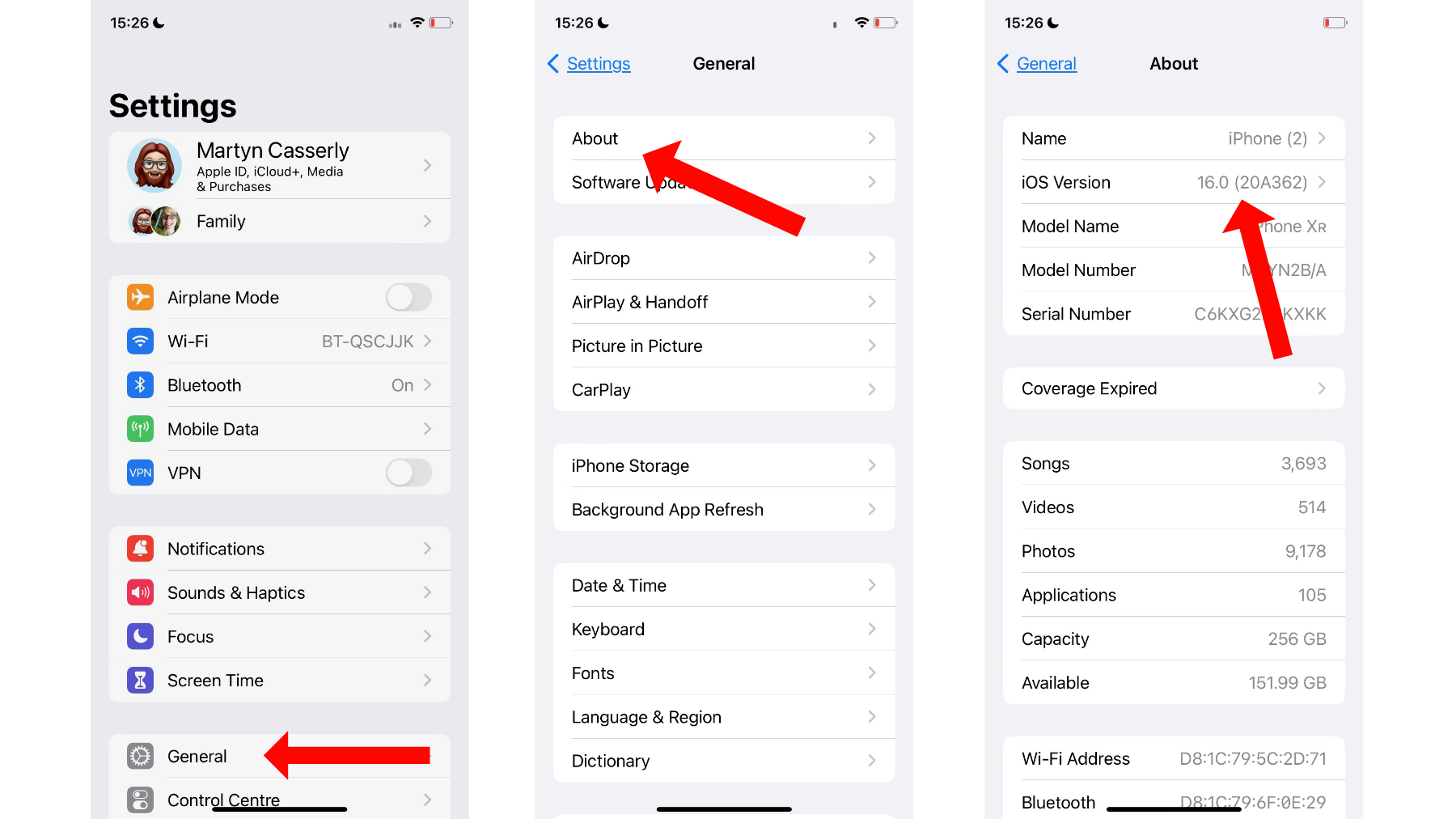 Foundry
How to install the latest version of iOS
Updating your iPhone to the latest version of iOS is simple, so long as your device is compatible. This doesn't require much detective work though, as your iPhone will know whether it is eligible for the upgrade or not.
To find out, go to Settings > General > Software Update and your iPhone will check to see if there are any available. You may also see a notification on the Settings page that says 'Software Update Available', which you can click to go straight to the update page. iPadOS works the same way.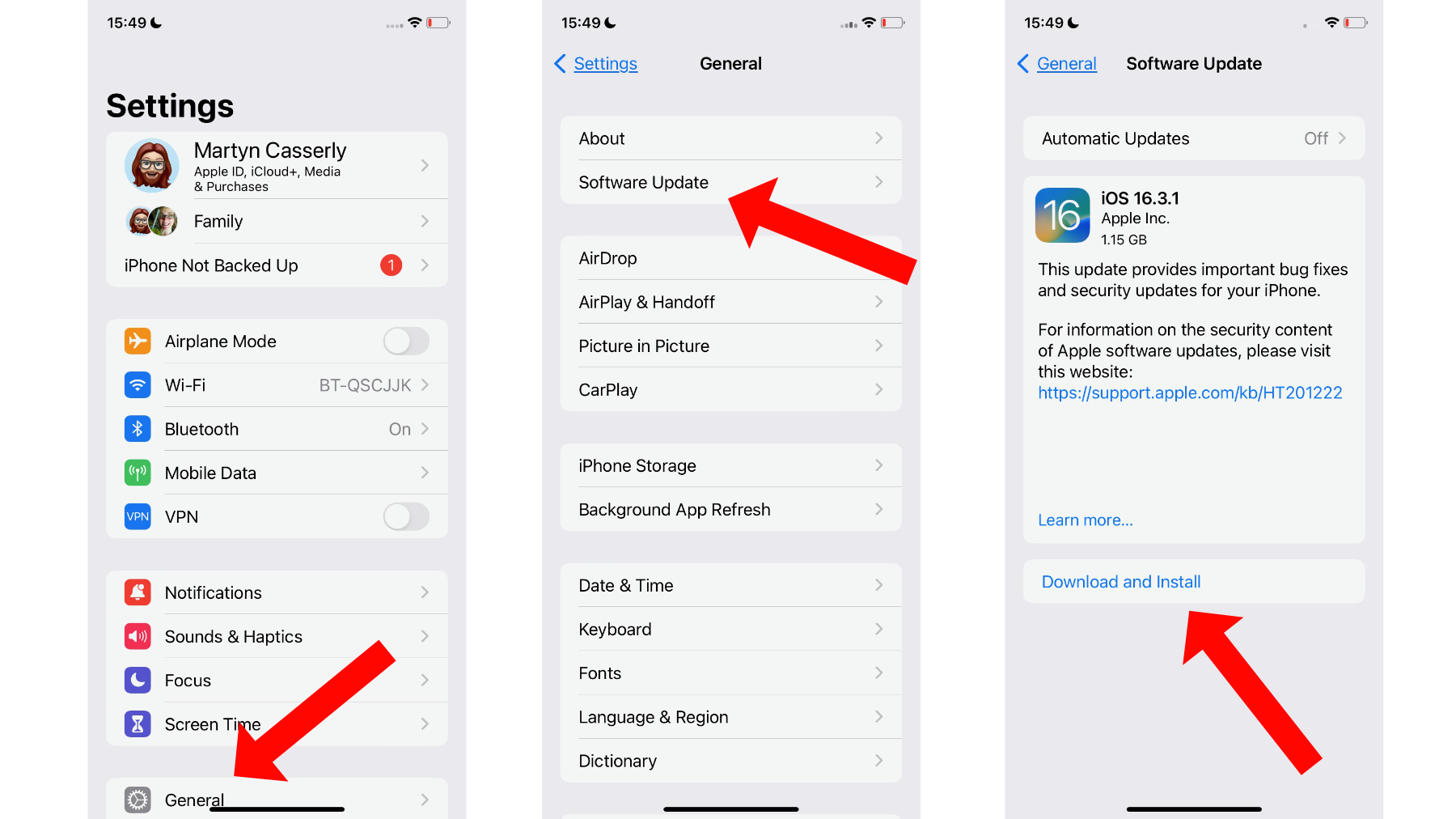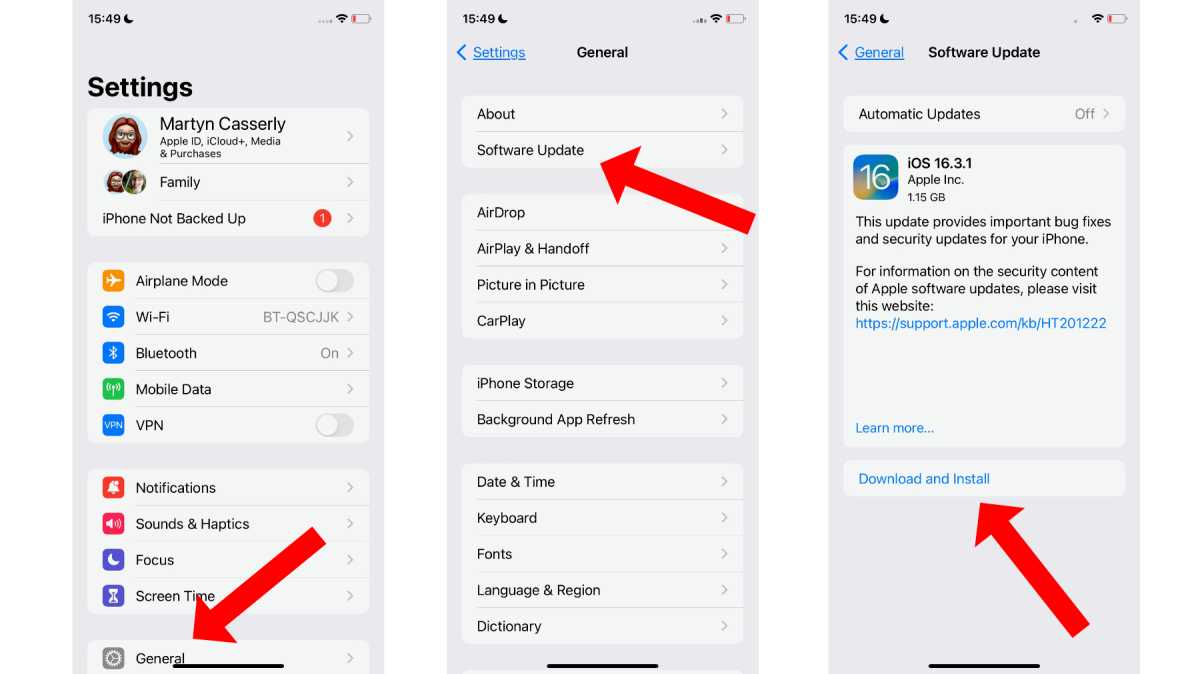 Foundry
If there are no updates, you'll see a message along the lines of 'iOS is up to date'. Should there be one available, it should tell you on the screen and give you the option to 'Download and Install'. Do this and your iPhone will automatically apply the update and bring your software to the latest version.
You can also read our how to update iOS on iPhone tutorial for more details.
So, there it is. A potted history of iOS. No doubt there's plenty of excitement in the years ahead and you can see what we think Apple might bring to the table by reading iOS 17: every new feature we hope to see unveiled at WWDC.
Want to know about all the versions of macOS? Read: Mac OS X and macOS: Every version released so far.