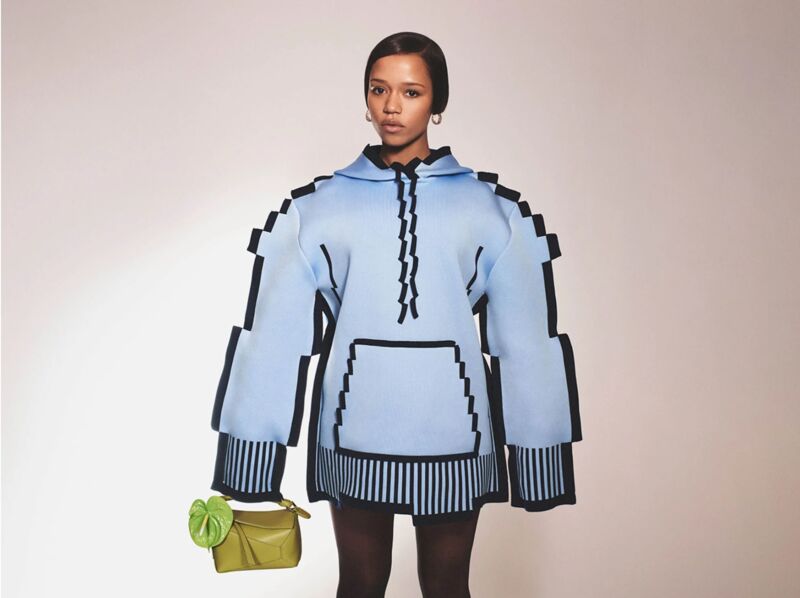 Move over, Microsoft. There's a new company out there peddling clothing evoking memories of old tech. Loewe, a Spanish fashion company that apparently makes really expensive clothing, is paying homage to pixelated graphics à la Minecraft with a recently released line of clothing that makes you look like you plucked clothing out of a retro game and slapped it on your 3D body.

If you're a retro gamer (and especially if you're the type of retro gamer who uses a modern TV), you may deal with pixelated graphics frequently. The low-resolution look is so popular that Minecraft and other modern titles swear by it today. And now Loewe is expecting people to pay thousands to dress like their part of a retro reality.
As reported by The Verge, Loewe previewed the Pixel collection at Paris Fashion Week in October. Now, it's listing the products—including a $2,500 hoodie, $3,400 purse, $2,500 pants, $1,850 T-shirt, and $790 denim skirt—on its website for purchase.

There's clothing, including Minecraft-branded pieces with pixelated textures printed on them, but the Loewe lineup's standout hoodie and shirt create their effects with jagged, bold black edges for an effect that's as bewildering as it is unique. Loewe describes the items as having a "2D construction around the seams" and, in the case of the hoodie, the kangaroo pocket and cuffs.
Other items, like the "duchesse silk satin" pants and logo-stamped T-shirt, offer fabrics with prints made to look like pixels to create a virtual effect.
A close-up of the silk pants.

The type of blurry logo headaches are made of.

The bag looks the least impressive but "pixelated print satin calfskin" and "overstitched edges" contribute to its $3,400 price.
What's nice about this line of clothing is that, outside of the branded T-shirt, it doesn't focus so bluntly on corporate promotion. We have fun looking at Microsoft's annual ugly sweater, and while the pieces bring warm, fuzzy feelings of nostalgia, they're also a form of Microsoft branding. We've also seen other high-fashion brands embrace tech but couple it with a healthy dose of co-marketing (see: Balenciaga's line of Fortnite clothing). Loewe's collection gets props for not necessarily turning wearers into a walking billboard for tech brands.
Of course, the Loewe lineup loses any sense of practicality and humbleness with its four-figure prices and outrageous designs. They're still a trip to look at, though.