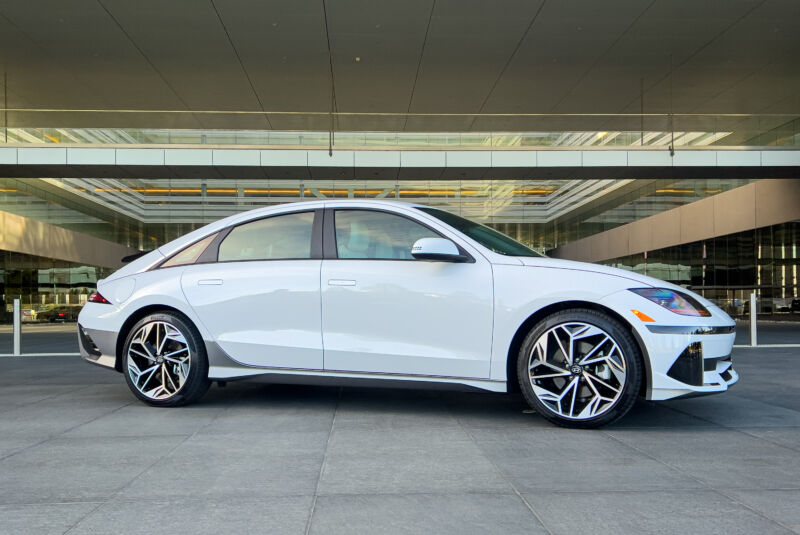 FOUNTAIN VALLEY, Calif.—The past couple of years have seen a flurry of new electric vehicles go into production. But you'd be forgiven for thinking that some of them are a little samey as automaker after automaker releases yet another electric crossover. This makes sense—consumers mostly want crossovers, as they combine hatchback practicality and a more elevated driving position. But the sedan isn't quite dead yet, and now there's another electric one for your consideration: the 2023 Hyundai Ioniq 6.
The Ioniq 6 is the latest in a series of new EVs to use Hyundai Motor Group's new E-GMP architecture. Designed from scratch, E-GMP lets Hyundai (and Kia and Genesis) build medium- and larger EVs with rear- or all-wheel drive powertrains. E-GMP battery packs operate at 800 V, which provides several benefits. The higher voltage means a lower current, which translates to thinner wiring, which reduces overall mass. And it's capable of very rapid DC charging—just 18 minutes to get from 10 to 80 percent when plugged into a 350 kW fast charger.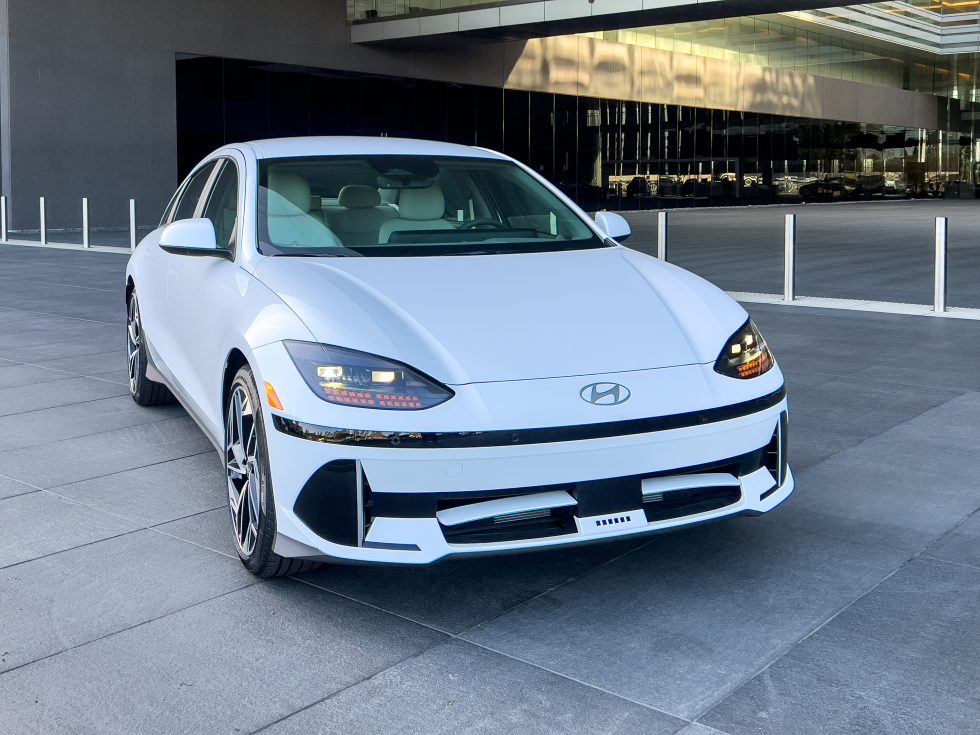 None of that will be news if you've read our reviews on other E-GMP EVs like the Genesis GV60, Kia EV6, or the Hyundai Ioniq 5. All three are rather good EVs, so expectations were high for the Ioniq 6.
As six follows five, it might be logical to expect that the Ioniq 6 is a larger, more expensive EV than the Ioniq 5. But that's not the case—at $41,600, the Ioniq 6 starts at just $150 more than the boxy, angular Ioniq 5 crossover.
"We want our cars to always connect with customers on an emotional level," said SangYup Lee, executive vice president and head of Hyundai Design Center. "Depending on the owner's lifestyle, the way of using a vehicle will be different, resulting in a different look—much like chess pieces on a board, each one with a distinct look and functionality but part of the same family. Hyundai designs with diverse lifestyles in mind rather than with a one-style-fits-all approach."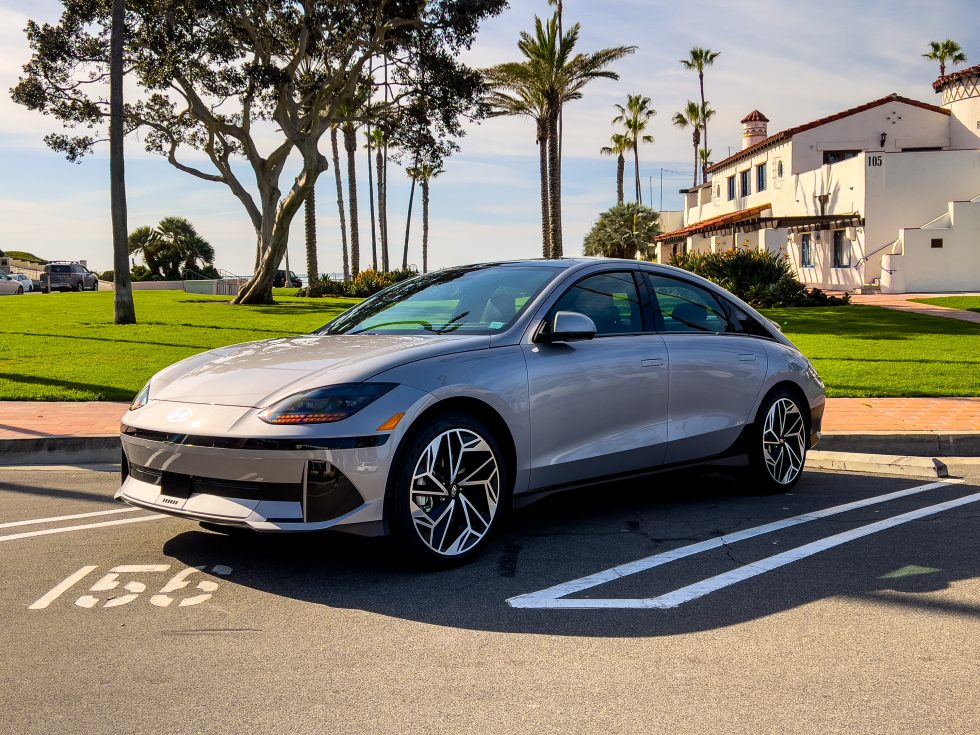 Size-wise, the Ioniq 6 is noticeably longer than the Ioniq 5 at 191.1 inches (4,854 mm) but slightly narrower at 74 inches (1,880 mm) and much shorter at just 58.9 inches (1,496 mm) high. However, the Ioniq 6 uses a two-inch shorter wheelbase at 116.1 inches (2,949 mm). If you want to maximize your interior space, the Ioniq 5 is probably the Ioniq you want.
Instead, the Ioniq 6 is aimed at a buyer looking for something a little more elegant and who values style at least as much as practicality. It doesn't have quite as stunning a shape as 2020's Prophecy concept; the journey to production toned down some of Prophecy's wilder details, and the silhouette gained some height thanks to the slab of real batteries between its axles. It has also proved to be a remarkably hard car to photograph well, at least as far as I'm concerned—it definitely works better in person than on a screen.
The detailing may be toned down, but it still contains plenty of interesting touches. Hyundai's design team calls its lighting philosophy "parametric pixels," which feature both in the orange daylight running lights at the front and the full-width tail lights at the back. I particularly adore the panel integrated into the rear spoiler, which houses the third brake light. But then I'm a sucker for all things polychromatic, and whatever coating or polymer Hyundai used here gets rather rainbow-y up close in bright sunlight.
Less of a whale tail, more of a porpoise tail?


Jonathan Gitlin

Parametric pixels abound.


Jonathan Gitlin

The rear light cluster is animated.


Jonathan Gitlin

The Ioniq 6 is one of the lowest-drag cars ever to go on sale. There are plenty of small details that go into achieving that drag coefficient, like these little aero devices below the tail light.


Jonathan Gitlin
The shape remains highly aero-efficient. The drag coefficient is just 0.21, compared to the Ioniq 5's 0.29. It combines with the smaller frontal area to make this an EV that slips through the air with considerable ease.